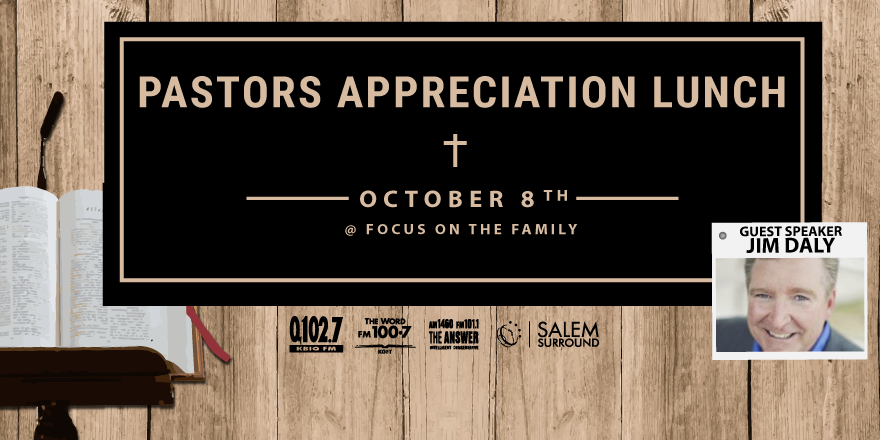 Greetings Pastor,
Thank you for all that you do in ministry in and outside the church. While your passionate calling to teach and equip the saints inspires us to serve others, at times, the ministry can be taxing and thankless. Showing our gratitude for what you do and who you are, you and your spouse are invited to our 17th Annual Pastors' Appreciation Lunch at Focus on The Family October 8th.
This special event is an excellent opportunity for you to invite other pastoral staff and their spouses to lunch and time together out of the office on us. If you're a lead pastor, an associate, worship, youth pastor, or hold another 'active' pastoral role you are invited!
Enjoy a time of connecting, lunch, and an inspiring message from Jim Daly. Jim is the president of Focus on the Family and host of its daily radio broadcast, heard by more than 6.6 million listeners a week on more than 1,000 radio stations across the U.S. The broadcast has been honored as Program of the Year by the National Religious Broadcasters. In March 2019 Jim celebrated his 30th anniversary with the ministry.
So, get out of the office and join other pastors for this event. You will be glad you did. Make it simple and forward this email to your pastoral staff. Seating is limited, and this event will fill up fast, so register today to ensure your seat. You can register by clicking HERE
Grateful for you and look forward to seeing you!
Check in begins @ 10:00 am
Lunch starts @ 11:00 am
Pastors Appreciation Lunch is sponsored by...