Anne Wilson's "My Jesus" Goes Platinum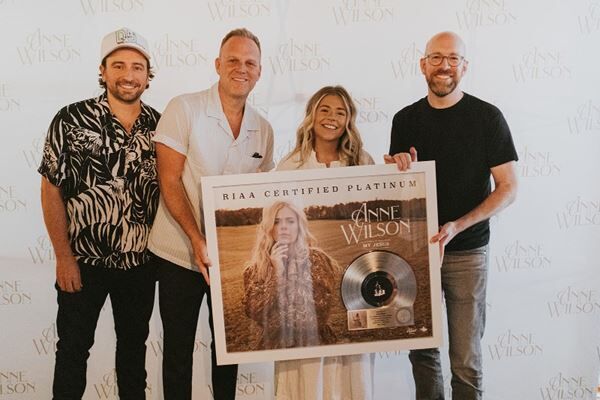 Talk about getting it right the first time! How rare it is to have an artist's very first song released to go all the way to the top. But that's exactly what has happened to GRAMMY-nominated artist and songwriter Anne Wilson. Her debut song release, "My Jesus" has topped one million units sold. That certified the song as achieving Platinum Status by the RIAA.
Wilson was rendered speechless as her record label team surprised her with a celebration to announce that her debut single "My Jesus" is now certified PLATINUM by the Recording Industry Association of America (RIAA). The "deeply personal breakout ballad" (Billboard) has continued to fuel Wilson's career as it notched over one million units sold and counting.
RELATED: Watch Anne Wilson's music video for "My Jesus"
"What a moment for the Lord, for my sweet brother Jacob, for my family, for the writers and producers, for Capitol Christian and for ALL who have walked this unexpected adventure," shares Wilson. "To see what God has done out of the deepest pain is such a precious gift that He has given to all of us. GOD NEVER wastes our sorrows. He uses them in ways we cannot dream of. I can't wait to hug my brother again and talk about all the things God has done. Jacob must be beaming in heaven right now sitting with 'My Jesus.'"
Here's that moment captured on Anne's Instagram....!
View this post on Instagram
Wilson embarks on her first-ever headlining My Jesus Tour with special guest Josh Baldwin. The nearly sold-out 20-stop tour begins on Sept. 28 in Houston, Texas and spans across the country with stops in major cities including Austin, Atlanta, Charlotte, Indianapolis and Chicago.