Amy Grant Announces 30th Anniversary Edition of Iconic 'Heart in Motion' Album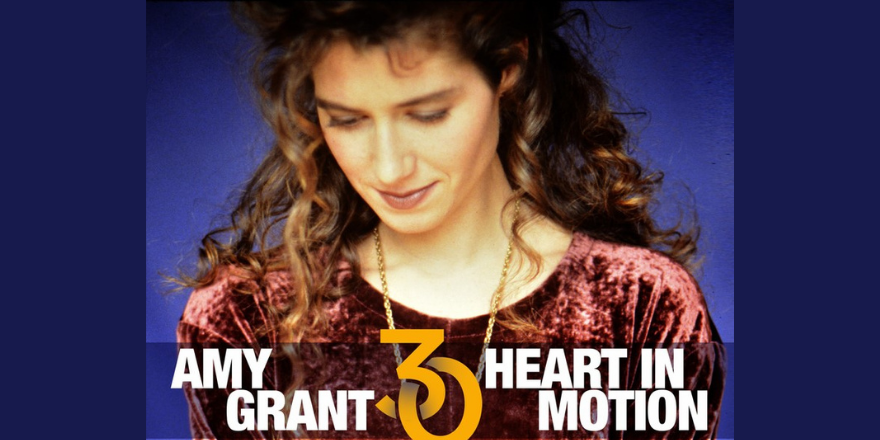 Six-time GRAMMY-winner Amy Grant has announced that she'll release a special 30th anniversary edition of her iconic album, Heart In Motion. Over the next few weeks, exclusive commemorative "Fan Bundle" will be made available to diehard fans. Bundles will include the double disc, an exclusive bonus single disc with commentary, a limited edition photo book, t-shirt, and a 30 year Heart In Motion keychain - even an exclusive version at Walmart with two extra tracks. Digital pre-orders begin June 18 at all DSPs and include the instant grat track "Don't Ever Want To Lose It (Wind in the Fire)."
RELATED: Amy Grant and Ellie Holcomb Appear on "The Today Show"
"How could 30 years have flown by so quickly?," Grant remarked. "Doing this commemorative project has been so much fun -- going through old photographs, reconnecting with so many people who were part of the original project, sharing memories and rediscovering the music that made it and the music that didn't. I hope people enjoy listening to what we have put together."
Amy talks about putting Heart in Motion together on this Entertainment Tonight interview

Along with all the original Heart In Motion remastered tracks, the double disc anniversary edition will also include never before released tracks and updated remixes of the hit singles. Plus, for the first time since its original release, the album will also be remastered on vinyl. A major DSP campaign, which is already underway, includes a year-round playlist focus, single releases and themed collections. See full track listing below.
RELATED: Amy Grant Recovers from Open Heart Surgery

Originally released on March 5, 1991, Heart In Motion was GRAMMY-nominated, sold over 5 million copies and garnered five Billboard Top 10 singles ("Baby Baby," "Every Heartbeat," "That's What Love Is For," "I Will Remember You," and "Good For Me.").
Heart In Motion 30th Anniversay Edition Track List

DISC 1

Good For Me

Baby Baby

Every Heartbeat

That's What Love Is For

Ask Me

Galileo

You're Not Alone

Hats

I Will Remember You

How Can We See That Far

Hope Set High



DISC 2

Don't Ever Want to Lose It (Wind In The Fire)*

Stand By Me*

Heart In Motion Medley

Good For Me demo

Baby Baby (7 inch Heart In Motion mix)

Every Heartbeat (Steve Bishir edit)

That's What Love Is For (Demo)

Ask Me (7 inch Mix)

Baby Baby (12" Heart In Motion Mix)

Galileo (Rough Mix)

I Will Remember You (Rhythm mix)

Good For Me (12" So Good mix)

Every Heartbeat (Heart and Soul edit)

Day And Night*

Baby Baby (7" No Getting Over You mix)

Good For Me (12" mix)

*New