Don't Let Food Cloud Your Focus This Thanksgiving
By Erin L. Todd, iBelieve.com
When pumpkin-spice-everything appears, fall is in the air. The spicy, sweet scent reminds me, by my calendar and by my lived experience, that this is my window to prepare myself for the hectic holidays ahead.
Halloween marks the beginning of a crazy and complicated season of eating. Right after we recover from the candy, it's time to talk turkey.
But in former years, this bountiful and festive occasion did not spark joy in my heart if I was on a diet, and I was on a diet nearly every holiday season since high school. Instead of joy, it sparked dread and anxiety over blowing my diet. I felt like I was doing mental gymnastics to avoid temptation and skillfully maneuver over and around the pumpkin pie I was secretly dying to eat.
I think nearly every one of us has looked at a holiday dish this way before. You obsess about it, you swear you're not going to eat it, but then you see it and it's too good to resist, so you eventually give in.
Then the shame spiral begins. It's way too easy for us to let food take over the holidays. I've wasted too many precious holidays in that headspace. Paradoxically, since I ditched dieting and began intuitive eating, the goal for the holidays has less to do with food. Now I'm aiming for no stress, no judgment, feeling well, and enjoying God's many gifts.
This Thanksgiving I want to be fully present in the moment and genuinely grateful for the many blessings surrounding me, including the food. Doesn't that sound better than dieting?
When we approach holiday eating from a faith-based intuitive eating perspective, a season of true abundance and gratitude opens up.
Here are three key points from that perspective we can keep in mind so we don't let food overwhelm our focus this Thanksgiving.
Photo Credit: Getty Images
1. Realize: There Is No "Good" or "Bad" Food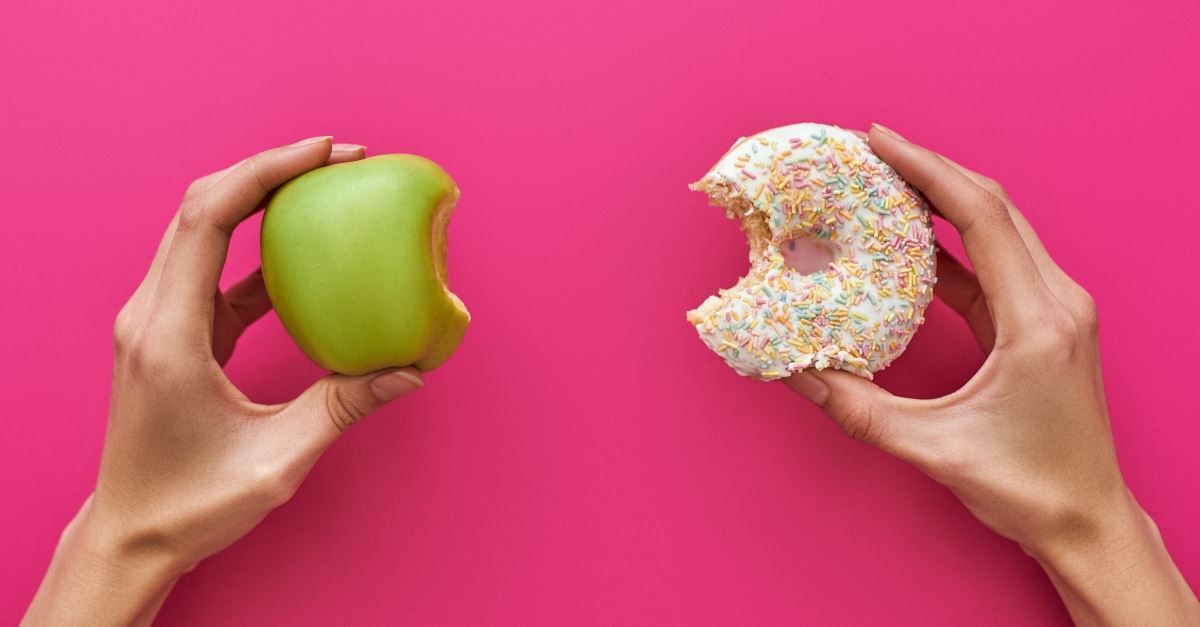 Everything that lives and moves about will be food for you. Just as I gave you the green plants, I now give you everything. (Genesis 9:3 NIV)
We have to stop fearing food. In one of my last Thanksgiving meals as a dieter, I was convinced
that the only "safe" choice to put on my plate was plain turkey. No cranberry sauce because it was from a can, no stuffing because it wasn't grain free, no gravy because who even knows that's in that. I was afraid to ruin my weeks of "clean" eating I'd done as a preemptive strike against holiday weight gain with even a single bite of something questionable.
But now I realize that food is not the enemy, diets are.
Thanksgiving seems like the ideal time to finally stop believing Diet Culture's labels about what we "should" or "shouldn't" eat and truly enjoy the gift of food.
By the way, gravy is just accumulated juices from roasting the turkey mixed with some flour, water, salt and pepper. Hardly the devil diet culture makes it out to be!
Food is neither "good" or "bad." Food is a gift from God meant to point us to the Giver. We can eat accordingly and without fear.
Nothing outside a person can defile them by going into them. Rather, it is what comes out of a person that defiles them. (Mark 7:15 NIV)
Food is a gift from God and that means it's OK to enjoy it! When we have eyes to see food as a gift, we know what we are receiving is so much more than just the macronutrients (or lack thereof) in the food.
Take my grandma's chocolate peanut butter cake for example. Enjoying a piece of this cake was reserved for holidays or special occasions, and beyond the satisfaction I got from the richness of each bite, I was also being nourished by the love baked into it and the love between the people around the table.
This time of year more than any other we can see how food can nourish us beyond just the physical level. Each nourishing bite is an opportunity to give thanks. We can celebrate God's goodness, love and provision for us through His gift of food.
Photo Credit: Getty Images/Dima Sidelnikov
2. Respect: Your Body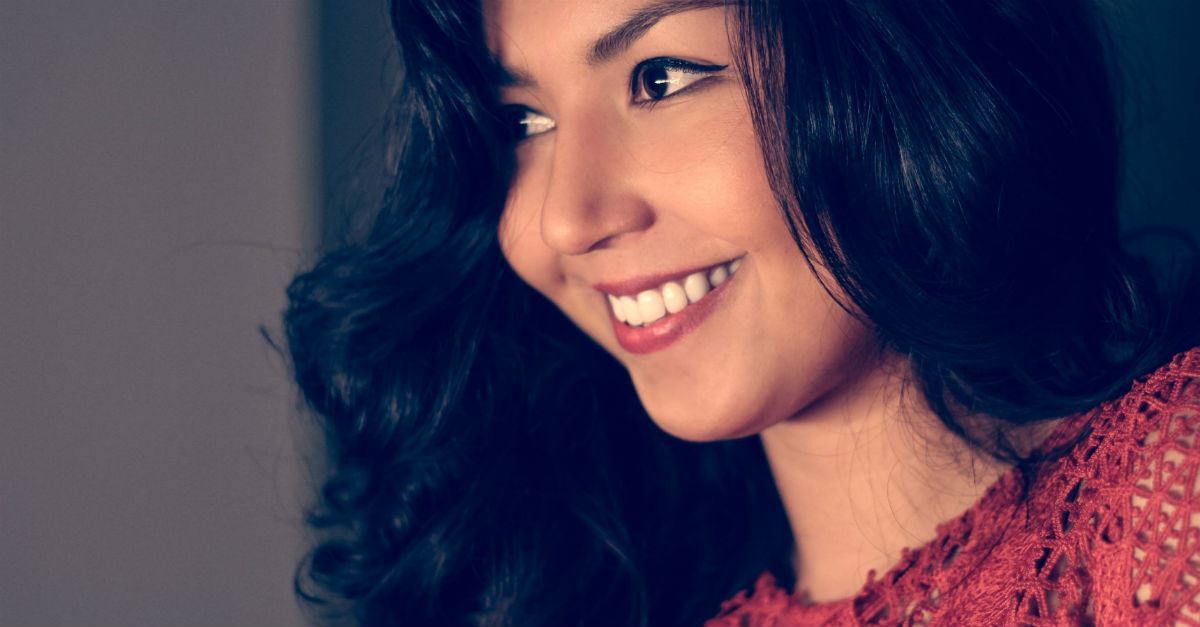 Whether you personally like what you see in the mirror or not, it's undeniable that our bodies are amazing. God created our bodies and it's a good design. It's safe to listen to our bodies.
For we are God's handiwork, created in Christ Jesus to do good works, which God prepared in advance for us to do. (Ephesians 2:10 NIV)
When we look to internal signals from our bodies like hunger and fullness rather than external signals from diet culture like food rules and labels, we honor the internal wisdom of our bodies and the infinite wisdom of the Creator.
So God created human beings in his own image. In the image of God he created them; male and female he created them. (Genesis 1:27 NLT)
Stop judging your hunger and instead learn to trust your hunger. You are allowed to eat as you normally would leading up to the big holiday meal, no saving up required. You are allowed to eat that second serving for pleasure even if you're not all that hungry anymore. You are allowed to pass on the yams because it's not your favorite and instead opt for extra turkey because that's what you're hungry for in that moment.
When you eat mindfully and pay attention to your body's signals while eating, you can tune into your body and better sense your taste buds, satisfaction, hunger and fullness. Paying attention to your body's signals is an important part of self-care and respecting your body, especially during the holidays.
Fullness seems to go hand in hand with Thanksgiving for many of us so I want to highlight an important distinction with fullness between diets and intuitive eating with God.
Diet culture condemns overeating and considers it a weakness or moral failing. I can remember pushing back from many a holiday table feeling like a failure, the discomfort coming from my own self-judgment as much as from my stuffed belly. But shame is a tool of the enemy, not of our Heavenly Father.
You are allowed to feel overly full without having it affect your inherent worthiness as a child of God. You are not less of a person because you at more than you "should," and the Lord doesn't love you any less than before.
This time of year is an opportunity to treat our bodies with compassion and respect, not condemnation.
So now there is no condemnation for those who belong to Christ Jesus. (Romans 8:1 NLT)
Photo Credit: Unsplash
3. Run: to God, Not Food, for Comfort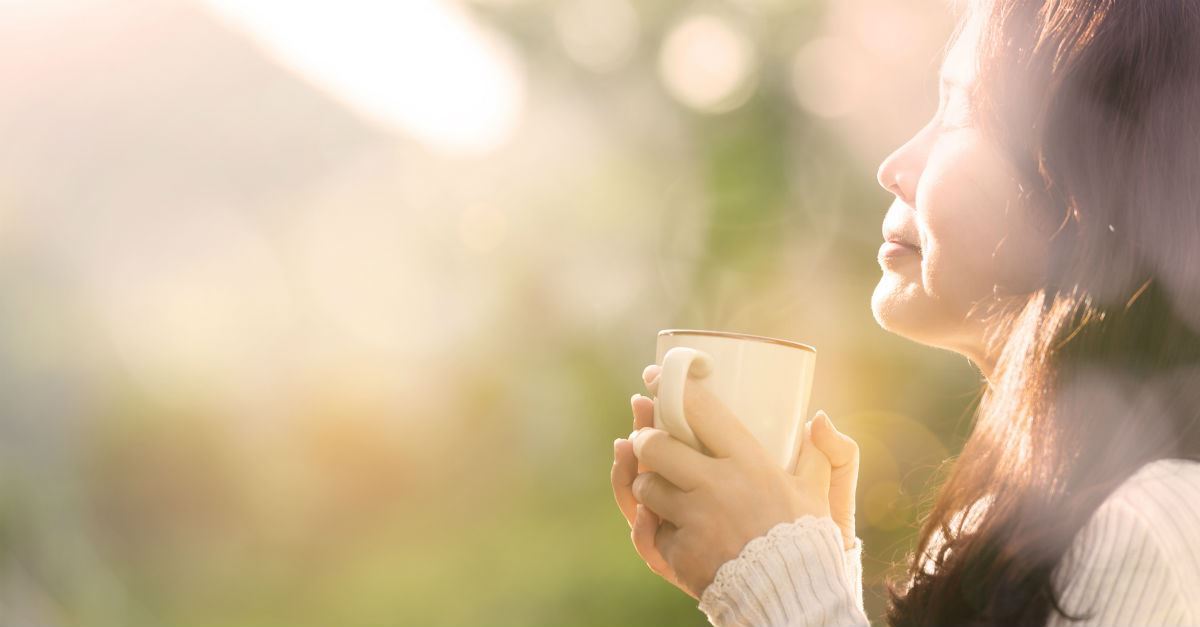 Even if you don't struggle with food or body image issues during the majority of the year, the holidays can stir some up. Maybe you're dreading hearing the annual remark of that one relative who likes to loudly comment on your physical appearance. Maybe you're anxious about the tension between two loved ones who are rarely in the same room together. Maybe you're concerned you will offend someone or have to answer questions about your food choices.
The holidays can stir up lots of different emotions and a special brand of stress. With so much food readily available, it can be tempting to stuff down difficult emotions or soothe our stress with food. After all, holiday dishes are at the top of my list when I think of "comfort" foods.
There is nothing wrong with finding comfort in those special, nostalgic or just plain delicious holiday dishes. I look forward to the comfort in a holiday meal for days leading up to it. But the food can't be our only source of comfort.
During this hectic season it is especially important to have other self-care tools in our tool belt. A few of my personal favorite sources of comfort are hugs from loved ones, especially those I don't get to see too often, singing and dancing along with my favorite holiday music, and going for a walk outside. And let's not forget about our ultimate source of comfort for our stress and difficult emotions—Jesus!
Praise be to the God and Father of our Lord Jesus Christ, the Father of compassion and the God of all comfort, who comforts us in all our troubles, so that we can comfort those in any trouble with the comfort we ourselves receive from God. (2 Corinthians 1:3-4)
Let's remember that emotional eating and stress eating don't really solve our issues. Food is not a good coping method and it's not meant to be. When we take our struggles to God, we find a comfort that food simply cannot give.
In Christ we have the freedom to enjoy the gift of food, but we must remember our true satisfaction and true fullness comes from God and not food. So when difficult emotions bubble up or we begin to feel that holiday stress mounting, remember we can run to God for comfort.
Let us then approach God's throne of grace with confidence, so that we may receive mercy and find grace to help us in our time of need. (Hebrews 4:16)
This Thanksgiving I encourage you to approach food differently. Release the diet distractions that pull your focus onto food and yourself.
Let's keep food in its proper place and God in His proper place this holiday season. Let's come to the table with eyes to see our many gifts, including the food set before us and the bodies we have right now, and receive them with thanksgiving.
For everything God created is good, and nothing is to be rejected if it is received with thanksgiving. (1 Timothy 4:4 NIV)
---
Erin L. Todd is a wife, dog mom, attorney-by-day and writer-by-night living in St. Petersburg, Florida. As a redhead who battled insecurity and body image issues for over 30 years, she now claims the concept of being both a masterpiece and a work in progress simultaneously. Her blog "Ginger In Progress" was born from a spiritual awakening where Jesus set her free from diet prison. Now she is on a mission to empower and equip women to Follow Jesus Not Diets. Find out more about Erin and grab your free Intuitive Eating Starter Kit for Christian Women HERE.
Photo Credit: Getty Images/Cherrybeans