When Two Become Four or More: Glorifying God in a Blended Family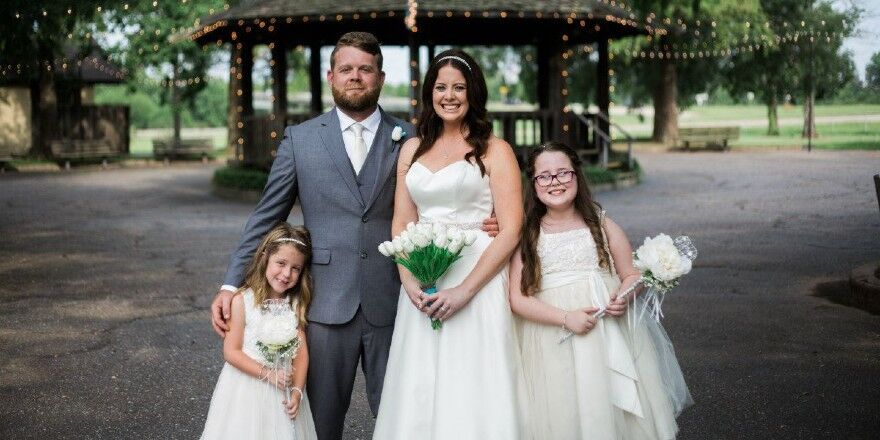 By Topher Haddox, Crosswalk.com
We live in a fallen world. I realize that seems like a grim way to begin a family-focused article, but even still, let's start there. I want to assure my readers that no marriage is perfect—
especially a Christian marriage. Even if it's a second matrimonial go-around and the rules of engagement should be mastered by now, marriage is still hard.
I'm a little over a year into my second marriage, and even though I'm a little older and (a tad bit) wiser than I was in my first marriage, the same pride and idolatry still exist in my heart. The same wicked, sinful desires still lurk beneath the surface, and I still have the same need for Christ as my redeemer.
It would be foolish to not remind myself daily that I have an enemy that wants to utterly destroy my marriage. And because my marriage is a God-designed, earthly representation of the sacrificial love displayed on the cross of Christ for His bride, I'd say there's a pretty massive target on it. Even if the first marriage failed and ended in divorce, Satan hates and wants to destroy my remarriage even more.
I believe for blended families, that target is even bigger. With a blended family, you also have the added testimony of restoration.
Restoration was a major theme for my wife and I during our engagement and wedding day. We believe that God brought us together with His sovereign hand to serve a two-fold purpose: to sanctify each other and magnify the name of Christ. He wiped away the tears from our two shattered marriages, fixing our eyes on Him. And just like He made both of us a new creation in Him to become like Him, He made us together to display His power to make things new.
That all sounds super-amazing. And it is, but living that truth out, however, is extremely difficult. The sanctifying fires of marriage burn red-hot.
The Challenge of Transition
Like I mentioned earlier, my beautiful wife and I celebrated our first anniversary this past June. Being the mega-famous author that she is, the milestone didn't go unnoticed. There were quite a few Likes and Comments on social media from our sweet friends congratulating us. Now, I'm not drawing conclusions that our friends naively thought the year prior was easy by any means, but beneath the surface of that getaway weekend selfie, we were both licking wounds from near-daily fights.
Bringing two families together under one roof was, and still is, a humbling challenge. The struggle-bus makes frequent stops at the Haddox residence. Granted, some dynamics of this union have proven to become less difficult over time. But as with any method that God uses to make us holier, He may teach us to master one struggle only to find another just one right around the corner. The process is difficult, but the payoff is sweet. My step-daughter has no idea how much God has used her to teach me to love people for who they are, rather than point out what they're not.
My wife and I were married within a year of our first date. Nine months to the day, actually. When you know, you know. I was eager to have a godly family, and my daughter was eager to have a stepmom and a sibling. I wanted that for her too. I had read all the right marriage articles and books. I had spent months in counseling. I was ready.
So when Betsy came along, desiring the same things for her family, we knew what God was up to. This was an answered prayer for both of us. Some would probably say that we rushed into things, making things more difficult. Maybe they're right in some ways. But I can tell you this— God's sovereign timing is perfect, and there's nothing we could have ever done to mess that up.
Looking back, if there was one area that I think we should have been more careful with, it would have been the transitional process. Moving so quickly with everything definitely made the adjustment process more difficult. Divorce and remarriage are tough enough on a child without feeling rushed into things. My wife and I had already established two different parenting techniques, two different sets of household rules, and two different traditions. We had not only those challenges, but my daughter and I relocated to a different city to our new home. So—new city, home, step-parent, step-sibling, school, and friends… this should have been effortless, right?
Called to Love
As a father, showing sacrificial love to my daughter comes naturally. It's when I'm faced with showing that same love to my stepdaughter that I'm tested. The fact is, it's hard to love someone else's child as your own. I have a tendency to be more critical of my stepdaughter than I am towards my biological daughter. Whenever there is a behavioral problem with my stepdaughter, I sometimes find myself being critical of my wife's parenting style versus my own.
Talking with other stepparents, this seems to be a major tactic of the enemy. I've heard countless stories of stepfamilies that failed because of division. Division is Satan's plan for your family. If he can get you to form units against each other, the rest is easy for him.
"And if a house is divided against itself, that house will not be able to stand." (Mark 3:25)
How We Combat the Enemy's Scheme to Tear Us Apart
In order to survive, there has to be a battle-plan for your family, blended or not. Family-led prayer and Bible reading is the only way to defend your family against the flaming arrows of the enemy.
Teach your children to stand firm on the promises of God. Teach them that even know a blended family is difficult and sometimes unfair, God means it for their good and His glory. (Romans 8:28) If they can wrap their minds around that mountain of sustainable truth, they can face anything.
If I can sum up the secret for a blended family's survival in one word, it would be grace… upon grace upon grace. The personalities in my house are complete and polar opposites. My daughter, Addison, enjoys horseback riding and the outdoors. My stepdaughter, Audrey, spends her time creating any form of art imaginable. She's incredibly gifted. Betsy and I probably only share two interests: The Office and reformed theology.
Why would God bring such an opposing force together? Sometimes, we joke about this. Other times, the enemy whispers it to us while we're in an argument.
"This was a mistake. You're too different for each other. You'll never make it. You divorced once, the second time will be easier."
I can't tell you how many times these lies have crossed both of our minds. Especially that last one. Honestly, it's usually my wife that swallows her pride and remembers what we're doing here. She has stopped mid-fight to grab my hand, drop to her knees, and pray for us on more than one occasion.
The thing is, we're not here just to make it as a blended family. We're not here to try and get along with each other. We are here to magnify the love of Christ. The only way that is accomplished is by showing the same grace that was shown to us.
His Glorious Grace is Our Foundation
"... even as he chose us in him before the foundation of the world, that we should be holy and blameless before him. In love he predestined us for adoption as sons through Jesus Christ, according to the purpose of his will, to the praise of his glorious grace, with which he has blessed us in the Beloved." (Ephesians 1:4-6)
How can I read that, knowing that the King of Glory bled for my sins and adopted me into His family, and hold anything against my family for their sin? When behavioral problems arise due to the growing pangs of a living in a blended home, how can I not show grace when it has been so freely shown to me? When my new family isn't panning out to be the perfect, mistake-less union that I fooled myself into thinking it would be, how can I not pray for them the way Jesus prayed for me? (John 17:20)
As the headship of my family—biological or not—it should be my joy to show my family grace in everything that they do. Grace is the foundation that a blended family has to be built on. Without that foundation, my family will not succeed.
If you are in a blended family, know that the blood of Christ is thicker than biology. Resolve to glorify Him in all that you do, even when the odds of this world are stacked against you. That is how you display to the world that God is in the business of renewing hearts and restoring broken families. Behold, He makes all things new.
---
Topher Lee Haddox is a caffeine-addicted husband, daddy, and drummer. Born and raised in Louisiana, Topher enjoys the great outdoors and his fascination with hiking. He can usually be found swinging in his hammock, coffee in hand, or pecking away at his next article. He has a deeply ingrained passion for worship and feeding others the Word of God. His work appears regularly on Crosswalk. Visit his blog at https://topherhaddox.com.
Photo: Topher's beautiful blended family
Photo courtesy: Shae Cacciola