How to Slow Down When the World Won't Stop for You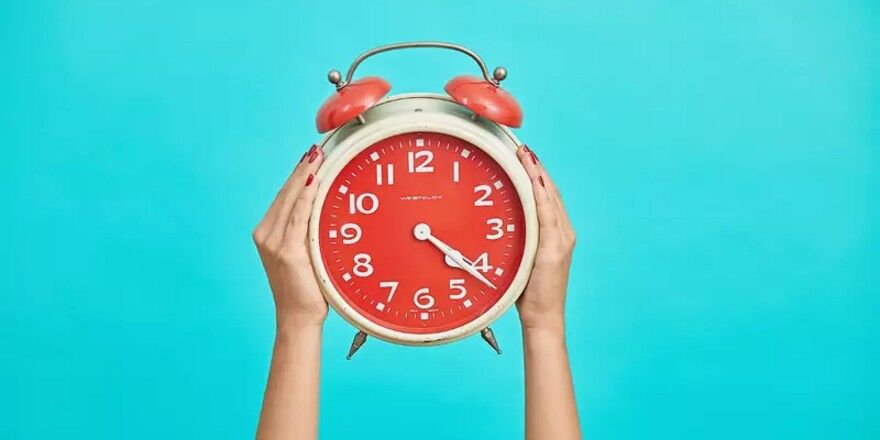 By Amber Ginter, iBelieve.com
Anxiously tapping my foot off the breaks, I stared at the miles of traffic in front of me. Twenty minutes away from school, this was not how I envisioned my first day of work. With shaky hands and a racing mind, I asked Siri to text my boss, imagining my dismissal.
Thankfully, I made it to the said institution in the nick of time that day, and my supervisor was incredibly understanding. However, this single day has since forged a memory of question in my mind that I will never forget: How do we learn to slow down time when the world around us simply won't?
I believe that Scripture gives us the best example of those who were busy but knew how to best use the time they were given. While countless examples exist, Luke 10:38-42 is a simple passage that teaches us to realign our priorities, set aside time, and focus on what matters most.
1. Realign Our Priorities
In Luke chapter 10, the scene is busy and chaotic. Two sisters, Mary, and Martha are spending the day relaxing in their home. Participating in the daily chores of cooking, cleaning, laundry, and perhaps other assigned roles of that time, Martha is frustrated with her sister Mary for not helping. Especially once news arrives that Jesus will be at their home that evening, she is distraught, trying to do it all by herself.
When I was in college, I ran a race a lot like Martha. My color-coded schedule got me to and from my responsibilities of existence. I was always on time, punctual, prepared, and excited. However, years later, I wonder how much of my mind was spent running while my heart was far from my actions.
Luke 20:38-42 states in the TPT translation,
"As Jesus and his disciples were on their way, he came to a village where a woman named Martha opened her home to him. She had a sister called Mary, who sat at the Lord's feet listening to what he said. But Martha was distracted by all the preparations that had to be made. She came to him and asked, "Lord, don't you care that my sister has left me to do the work by myself? Tell her to help me!" "Martha, Martha," the Lord answered, "you are worried and upset about many things, but few things are needed—or indeed only one. Mary has chosen what is better, and it will not be taken away from her."
Verse 42 claims explicitly, "Mary has discovered the one thing most important by choosing to sit at my feet. She is undistracted, and I won't take this privilege from her," and I believe that the Lord wants those same undistracted hearts from us as well.
When we are busy, it is easy to conform to the patterns of to-do lists, checklists, checks and balances, and all great things of organization. However, we must remember to realign our priorities with what Christ says deserves our time and attention. After all, we are busy, blessed men and women, but remember to seek first His Kingdom amid the disordered world pressing for your attention.
Matthew 6:33 in the ESV says it like this: "But seek first the kingdom of God and his righteousness, and all these things will be added to you."
2. Set Aside Time
While Martha was preoccupied with "many things," the Lord clarified that her distorted priorities were not sinful but absent-minded from precedence. Martha was like many of us, caught up in the trend of "go, go, go," without taking the time to realize, "woah, woah, woah, oh no!" However, if we look at Mary, she sat at the Lord's feet and listened to what He said.
I don't know about you, but once my anxiety takes off, it is often difficult to climb back down the ladder. In a counseling session once, I told my mentor about this dilemma and how once I started the day that way, it was nearly impossible to redeem the day. It was as if my mind was a racetrack, and once I got running, I couldn't stop until the day was over.
Jesus tells us in Psalm 46:10 of the ESV that as contradictory as it sounds, the best way to slow down a world that won't stop is to be still. "Be still and know that I am God. I will be exalted among the nations, I will be exalted in the earth!"
Even if it's setting your timer for five minutes of silence or forcing yourself to pause for some deep breaths, the Lord asks us to rest in Him even amid a fretful world scared of silence.
"For God alone, O my soul, wait in silence, for my hope is from him." (Psalm 62:5, ESV)
3. Focus on What Matters Most
Once we have realigned our priorities and made room for Jesus to speak, we mustn't become stagnant but active in that faith. By focusing on what matters most, Mary and Martha teach us how to pause in a society that continually presses play.
"She came to him and asked, "Lord, don't you care that my sister has left me to do the work by myself? Tell her to help me!" "Martha, Martha," the Lord answered, "you are worried and upset about many things, but few things are needed—or indeed only one. Mary has chosen what is better, and it will not be taken away from her."
In the heat of the moment, it can be challenging to discern what matters most in a set of tasks. And if I'm honest, I pray that if Jesus were coming to my house, I would be more focused on His presence than all the other voices, assignments, and perplexities yelling out for my attention. Yet, I am confident that this would be a difficulty.
Why is it easier to let God down than others? Why does it feel reasonable to reduce Bible time when we're busy maintaining all our other demands? These are questions that I have wrestled with, and although God understands times, seasons, and lifestyles of busyness, let's show a world how to slow down for Jesus even when it won't stop for us. Let's choose what is better and reap lasting benefits for our heavenly reward rather than an earthly one.
"In all your ways acknowledge him, and he will make straight your paths." (Proverbs 3:6, ESV)
---
Amber Ginter is an aspiring 25-year-old writer that currently works as an English teacher in Chillicothe, Ohio, and has a passionate desire to impact the world for Jesus through her love for writing, aesthetics, health/fitness, and ministry. Hoping to become a full-time freelancer, Amber seeks to proclaim her love for Christ and the Gospel through her writing, aesthetic ministry team (Aisthitikós Joy Ministries), and volunteer roles. She is also the author of The Story I've Never Told, which is currently in the publishing process. Amber has freelanced for Daughter of Delight, Kallos, Anchored Passion, Crosswalk, No Small Life, Darling Magazine, Called Christian Writers, Southern Ohio Today News, The Rebelution, Ohio Christian University, and The Circleville Herald. Visit her website at amberginter.com.
---
Want more interaction with the women of iBelieve? Join our fans, writers, and editors at the iBelieve Facebook group, Together in Faith, for more videos, stories, testimonies, prayers and more. Visit here to join the community!