Hawk Nelson – Miracle Moments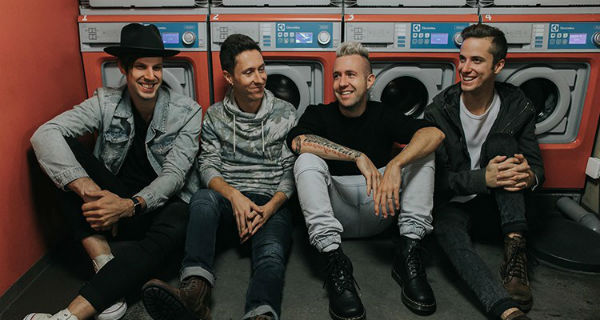 By Kevin Sparkman, CCMMagazine.com
Who are we to think or say that, "Miracles don't happen in the world today?" Why, so often, do we think so small when it comes to matters of a big, big God? Well, for one, He—as Hawk Nelson front man Jon Steingard says—is very "mysterious." There are so many things that happen in our world, sometimes right before our very eyes, that we cannot explain. Miracles? Steingard…he would say, "Yes!"
So, given his open mind, maybe it's not such a stretch to think that this theme of "miracles" isn't a big deal to a band whose bass player's leg had been ripped open several times by surgery to finally be replaced by the advancements of modern medicine? Or, that they finally achieved a Billboard Number One single after ten-plus years as a band—"ancient," by some methods of measurement? Or, that their current project—yes, aptly titled Miracles (Fair Trade Services, Apr. 6, 2018)—almost didn't happen due to his own personal setbacks, bout of depression, and writer's block due to the pressures of following up success?
"In my experience, when thinking about miracles and how God intervenes in our lives, most of the time, it's in these subtle, little ways," answers Steingard. "And if we make a habit of seeing them, then we start to see God in everything," he adds as he and his Hawk Nelson band mates recently release Miracles. As we catch up with Steingard in our Nashville headquarters, we quickly gather that he's not delivering lip service—or just figuratively stopping to smell the roses—for this father of one (with number two on the way!) is now thinking in both big, and small ways, and very seriously looking for God in all of life's little details…and His many, many miracles.
CCM Magazine: Take us through the creative process for your new album Miracles, and the task of following-up your most successful album to date.
Jon Steingard: Sure… It's interesting, right? I mean there's a lot you can unpack there. Obviously when you make an album or you write a song or whatever—or if you have a radio show, or if you're a plumber, whatever you do—you want that thing to be something that's successful and that meets the goals that you might have. In Christian music especially, you also hope that that is something that's meaningful to people in their lives. And that's why we're here, right?
With [the album] Diamonds, we saw a number of songs really resonate with people, which was amazing. And it was so gratifying to see God use so many of those songs in amazing ways. But there is something that happens that's really strange when you work toward something for a long time and then it more or less happens in some form: It's really anti-climactic. So I remember where I was when I found out that our song "Drops In The Ocean" went No. 1 at AC Radio, and that's the first time we'd had a song do that, and by that point we'd been a band...
CCM: It's a huge, long history…
JS: Right, like we'd been a band for thirteen years, so it took thirteen years to get to No. 1 for our little two-or-three-week turn at No.1, or something like that. My wife and I were living in L.A. and we had this tiny, little apartment that was really expensive. And I remember sitting in our living room looking out over the city, because we kinda had a pretty good view, and I remember thinking, "What now?"
I feel like this is supposed to feel like this transformative moment, but it feels like every other moment. And now, all I can think about is like, "Well, okay, so does that mean that the best we can hope for in the future is to just do this again?" Like, "Is that all there is?" And then, it kinda actually took me on this week-long spiral of, "I thought this would make me happier than it did."
CCM: Did it have any kind of confirmation for you that, "Well, I'm creative, this is what I'm here for—so, I'm not satisfied with this…"
JS: It did not validate my insecurities at all. I was thinking things like, "Well, I wrote this song with Jason Ingram and Matt Bronleewe and they're both really talented writers and anyone who sees that this song was successful is just gonna assume it's because of them. It wasn't 'cause of me." And that bothered me a little bit cause on some human level I wanted credit, which is a really dirty, ugly feeling. And when you recognize it in yourself, you're like, "Ugh, that's gross."
So it just unpacked all these things for me. But I think it caused me to refocus on what really matters when you make an album and what you hope will come out of it. And for me, it was like, "If I'm looking for my validation in these things, if I'm looking for my sense of worth in how successful a song is…" then it's really disappointing, whether it works or doesn't. It's not fulfilling either way. And I think for me that kinda kicked off on this new record, this totally different way of writing songs, where I was like, "Look, I want these things to work and I want people to resonate with these songs. That's still the goal. But I can't do it from the point of view of being like, 'This has to succeed for my validation.' If that's the way I'm approaching it, I'm never gonna be a healthy individual."
CCM: Do you feel you met that "metric," as you stated in your band's bio, on this project?
JS: Yeah, I started looking at it as like, "When I look back at this ten years from now, what will I be proud of?" Or, "I'm really glad we fought for 'that,' or let 'this' go," or something. And that was the filter in my mind of what needed to be on this album. "What do we wanna talk about, what do we wanna say?" A lot of times I approached the songwriting process with, "If I only had one chance to say something, what would it be?"
So, there's a couple songs that, for me, reflect that feeling. The lead single, "He Still Does (Miracles)" is one of those, where I look back over the course of our time as a band, and my life personally, and I see God intervening in difficult times. I see God present and showing up in our lives and that's something worth celebrating. It's also a reminder of the fact that we aren't alone, that God is present. He's not just someone we read about in the Bible. He's not just someone that, "Oh, He did some cool stuff way back when." I think He's present in our lives now.
There's a couple other examples, but just one I'll mention is, the last song on the record is a song called "I'd Never Know." It's a special one for me because it basically talks about how when you go through hard times or when you struggle with things you obviously don't wish to struggle with, it gives God an opportunity to show up in your life in a new way—and when He does that, we have the opportunity to see a new part of His nature. We can see a side of God that maybe we wouldn't have been able to see without that struggle. So, the chorus says, "I'd never know You as a healer if I never needed healing / I'd never know You as a savior if I'd never needed saving." And that was just a really cool thought, one that I knew I would be proud of later in life. Like, if we write about "that," that feels true and that feels meaningful and something that brings a little bit of redemption and hope to the moments that we struggle.
CCM: What about right now, in just the few weeks that the album has been out? Any immediate moments?
JS: Yeah… There is a song on the record called "Parachute," which is a song that's sort-of raw on just how much we need God and how much we need to be rescued. It doesn't have a real pretty bow on it. I think sometimes as believers—I talk about this with my wife and her family a lot—we feel like we have to have this magical answer. Especially if we're in a position of any kind of leadership, whether it's like as a pastor or in radio or artist on stage, etc. But God is really mysterious and the way that He works is mysterious, and sometimes there's things we don't totally understand. Sometimes that's just not realistic, and the chorus of that song is a cry our to the Lord and says, "God, I need You to be my rescue…"
---
For the rest of this feature, go to CCM Magazine
Click here to read more articles like this from CCM Magazine! The above article is printed with permission from CCM Magazine, the No. 1 source for all things Christian music, news and entertainment