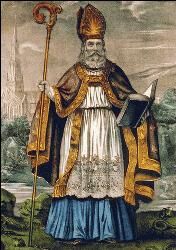 By Candice McGarvey, Crosswalk.com contributing writer
St. Patrick's Day
This day gives us occasion to commemorate the ministry of a devout man of God, and somehow the day has become known for its staggering consumption of beer. With the partying opportunities that abound, the masses proclaim that "we're all Irish" instead of simply recognizing the rich Irish heritage that deserves to be honored.
So as you tip-toe through "Kiss me, I'm Irish" buttons and four-leaf clovers, make a concerted effort to spread the word about the truths and the faith that made St. Patrick a man worthy of reverence.
St. Patrick
St. Patrick was actually not Irish, but was born in Scotland. At the age of 16, he was kidnapped by Irish pirates and sold into slavery in Ireland. During his six-year captivity he worked as a shepherd, laying the groundwork for profound imagery as his relationship with God flourished. St Patrick wrote of his captivity in his Confessions:
"But after I came to Ireland -- every day I had to tend sheep, and many times a day I prayed -- the love of God and His fear came to me more and more, and my faith was strengthened. And my spirit was moved so that in a single day I would say as many as a hundred prayers, and almost as many in the night, and I felt no harm, and there was no sloth in me---as I now see, because the spirit within me was then fervent."
Upon his escape to France, he became a priest, and later a bishop who, at the age of 60, left for Ireland to teach the word of God in a country where idol worship abounded. He describes his motivation in his Confession,
"We ought to fish well and diligently, as the Lord exhorts in advance Come ye after me, and I will make you to be fishers of men It was most necessary to spread our nets so that a great multitude and throng might be caught for God, and that there be clerics everywhere to baptize and exhort a people in need and want"
The Fish Over the Snakes
During his 29 years as a missionary, St. Patrick baptized over 120,000 Irishmen, and established over 300 churches. His glorification of God even gave rise to the legend that he drove the snakes out of Ireland. Many versions of the tale exist, including his standing atop a cliff using a wooden staff to drive the snakes into the sea. But St. Patrick's ministry was nonetheless effective as he transformed a nation of idol worshippers by baptizing the masses and their leaders in the name of God.
Perhaps the most amazing aspect of St. Patrick's ministry was that his introduction of God to Ireland set the stage for the country's rich history by introducing it to the one entity that would mold its civilization for centuries to come: faith.
The Shamrock
Popular culture confuses the shamrock with the four-leafed clover and the "luck o' the Irish" it accompanies. In fact it was the three-leafed shamrock that gained celebrity as one of St. Patrick's most persuasive props.
When some of his Irish followers expressed confusion over the Trinity, he bent down to pick a shamrock and bid the crowd to behold this living example of the "three in one."
Holidays Unplugged
St. Patrick's Day is just one occasion for Christians to remind our culture of its roots. The poster child of over-commercialization is probably Christmas, but closely following are the celebrations surrounding other important days of faith. Ash Wednesday has given rise to Mardi Gras and Carnival. All Saints Day has been reconfigured into a Halloween celebration that, when taken to its extreme, commemorates the dark opposite of its original intent.
By delving into the lesser-known facts about traditional holiday celebrations, we may find that these are occasions that grow, rather than diminish, our faiths. Today we may even hear Irish drinking songs that, upon second notice, will assure us of our roots as believers:
"When Irish eyes are smiling
Sure it's like a morning spring.
In the lilt of Irish laughter,
You can hear the angels sing."
---
Posted from http://www.crosswalk.com/spirituallife/ministry_audio/ministry_articles/guestcolumns/509936/